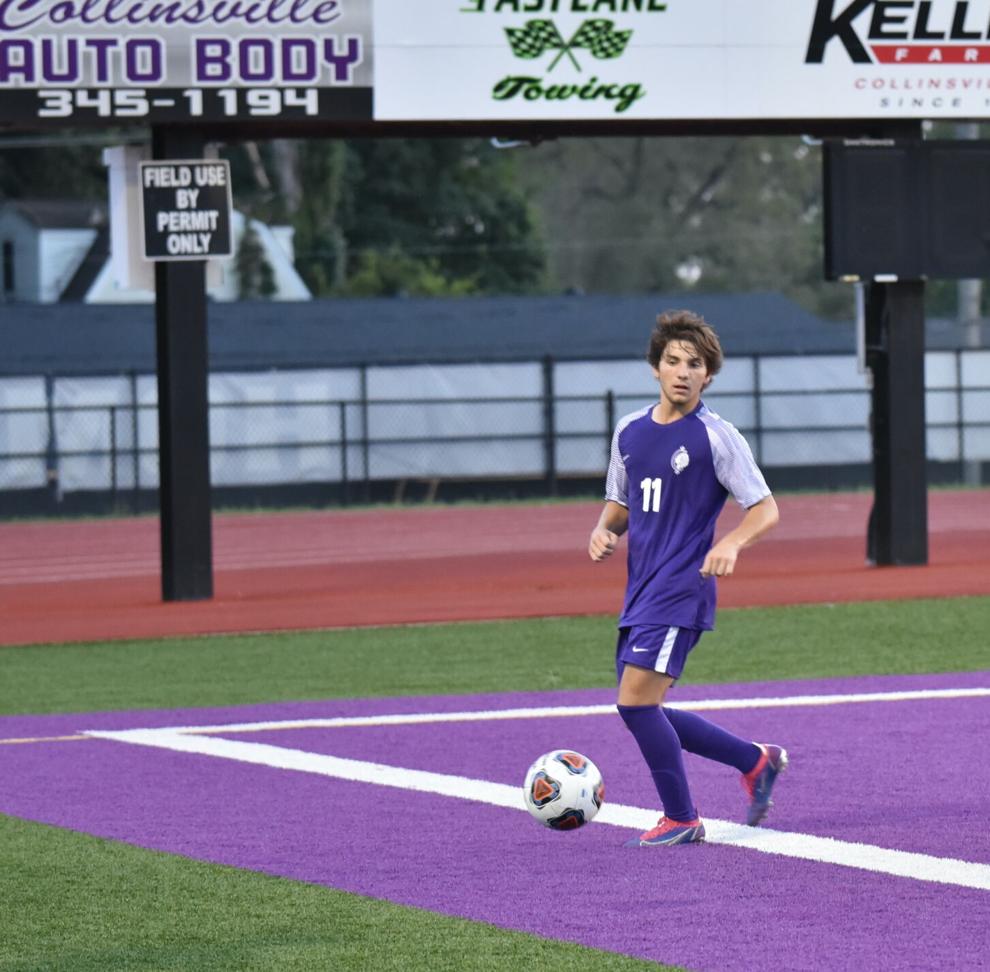 COLLINSVILLE - A shot from distance by junior striker Adam Reiniger caught Webster Groves goalie Luca Zarky off his line in the final minute of the match, but the shot bounded off the woodwork and deflected away from goal, forcing the Kahoks to settle for a hard-fought 1-1 draw with the Statesmen in a soccer match played Monday evening at Kahok Stadium.
The Kahoks had the better of the play in the first half, but Webster had two good chances, one that bounced off the top of the bar and another saved nicely by Robbie Freeman, who made his first varsity start in goal for Collinsville.
The Statesmen broke out on top in the 57th minute when Braydon Heard converted a cross from Oliver Doyle and put the ball past Freeman into the net to give Webster a 1-0 lead. The Kahoks equalized four minutes from the end when, off a throw-in, the rebound of a Reiniger shot was put in by Bryson Bode to bring Collinsville level at 1-1.
In the dying seconds, a mishit clearance by Zarky found Reiniger, who shot immediately from distance when he saw the keeper off his line. The ball, however, curved in and banged off the corner of the right upright and bar to preserve the draw at 1-1.
The Kahoks were playing without three key players, including senior goalie Nick Horras, who were all out with injury.
Collinsville is now 6-1-1 on the year and play at Alton Tuesday evening in a 6:30 p.m. kickoff, then host Belleville East Thursday and Edwardsville Sept. 20, with both games starting at 6:30 p.m.
On Saturday, the Kahoks suffered their first loss of the season at CBC as the Cadets took a 3-2 win after extra time. Reiniger scored both goals for the Kahoks in the match, assisted by Sam Garafalo and Chris Munoz. Ryan Rook had a hat trick to account for all three of CBC's goals, with assists going to Donovan Tabb and Aiden Terbrock.