Mermaiding is the art of wearing and often swimming in a costume mermaid tail. It is a sport that is growing across the country and the world. Considered a hobby when it was first starting to be noticed in 2004, it has developed into opportunities for professional careers for many people close to the ocean. The trend continues to build and is now being seen in many areas in the St. Louis region.
Two local mermaids can be found swimming in O'Fallon, IL at the McKendree Metro Rec Plex.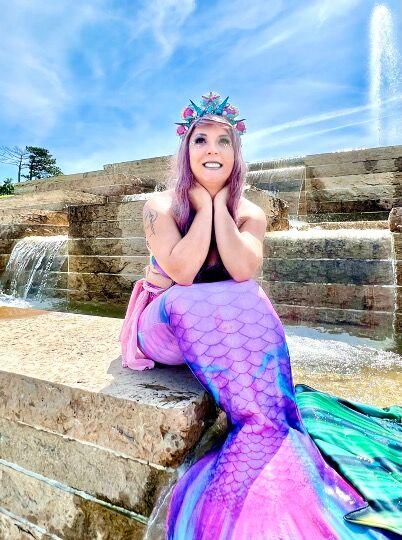 Kaydee Kelly (31) has been mermaiding for five years now and has attained certifications in the sport. Through the PADI Program, she has received her certificates in Basic Mermaiding, Advanced Mermaiding, Level 1 Free Diver and Mermaid Instructor.
Kelly said, "I loved the movie 'The Little Mermaid' as a child. I started this because it is majestic and allows you to be creative and release your inner child.
My mermaid name is Diamond. The community is amazing, and I have made some really great friends, like Sara."
Sara Cooper (35) just started officially mermaiding in June of this year but has been wanting to do this for a while.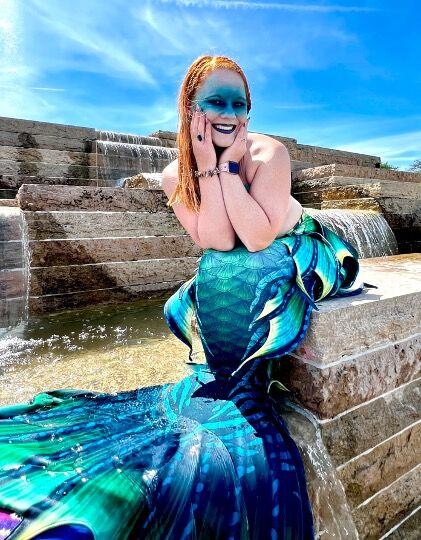 Cooper shared, "I taught myself how to dolphin swim when I was child. One day, I spent nine hours in the pool long after my friends left.  I was joking around that I was a mermaid that didn't want to leave the water. When I saw the mermaid tail, I had to buy one."
"My mermaid name is Siren Saor. Saor is Gaelic for free. My mersona (mermaid persona) has a blue skin around her eyes and cheeks similar to the markings of the Celts and Vikings, in blue ink like the Celtic warriors would mark themselves with, representing my Celtic and Viking heritage."
They started buying tails from distributors like Fin Fun. For the photo shoot in Forest Park, they were wearing their tails from Mertailer.  
Kelly continued, "My goal is to start Diamond Mermaid Discovery. This program will be teaching kids to become mermaids.  The program starts at six years old.  There will be divisions for ten and twelve years old up to adult. If you are just getting started, it is good to have a basic ability for swimming before you learn mermaiding. We have been teaching multiple people and are excited to continue to grow the love of mermaiding in the St. Louis region.
"Anybody can be a mermaid and swim with us. It's a lot of fun.  If you like the water and you want to be magical, be a mermaid," Cooper finished.
To connect with the Downstate River Maidens, visit their Instagram profiles @DiamondsMermaidDiscovery,  @siren_saor & @mer.maid.diamond
They can also be emailed at: sirensaor@gmail.com & Diamondsmermaiddiscovery@gmail.com