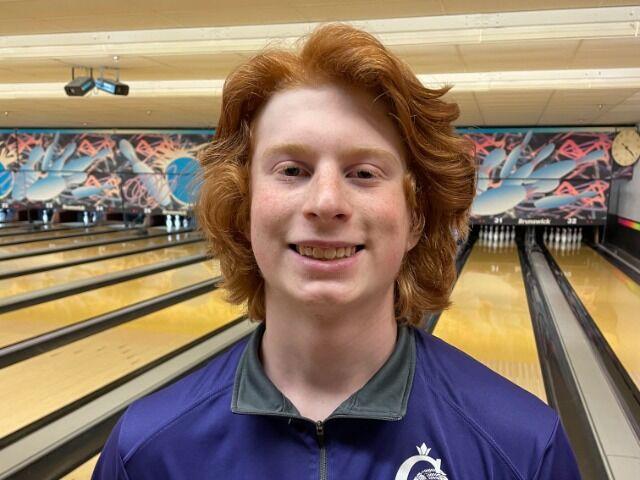 COLLINSVILLE - Senior Ben Sloan became the only bowler for the Collinsville High boys bowling team to qualify for the IHSA state tournament on Jan. 27-28 by tossing a six-game series of 1,255, tying for the sixth spot with Alton's Sam Ottwell as the Kahoks finished ninth as a team in the sectional tournament, held Jan. 21 at Collinsville's Camelot Bowl. This past Saturday, he posted an overall individual finish of 40th at the state tournament.
Sloan started his tournament on Friday afternoon with a six-game series of 1,275, with a morning high game of 265 and an afternoon high of 217, easily making the cut of the top 30 individuals not on qualifying teams. On Saturday, Sloan tossed a six-game series of 1,212 for a grand total of 2,487, tossing a morning high game of 264 and an afternoon high game of 176.
Sloan's high game in the morning session of the sectional was 258, while his high game during the afternoon was 197 as he qualified as an individual carrying the Kahoks' highest series of the day.
In his post-tournament interview after his state qualifying round, Sloan felt very bittersweet, proud of his achievement but feeling sad his teammates couldn't go with him to state.
"I'm feeling OK," Sloan said. "I'd rather make it with my team, but making it individually is fine, too. We tried our hardest today, it's not like we gave up on our shot. It is difficult in that back half."
"My mentality was that, no matter what, I'm coming out and I'm going to state," Sloan said. "That was my mentality. Just the fact that I'd love to do it with my team, but the fact is that I'm doing it by myself. That's cool, too."
Although he'd rather have his other four teammates along for the ride with him at state, Sloan knows that his teammates will be pulling for him as well.
"it feels pretty great," Sloan said, "knowing that I represented Collinsville at the state tournament."